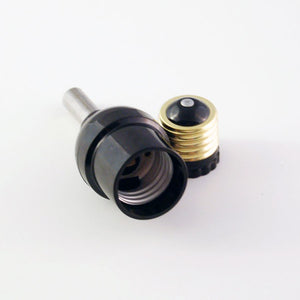 Edison Adapters expand your Violet Wand.  This add on to your Violet Wand will allow you to use any light bulb!  The Dungeon Store is proud of our specially made Edison Adapters.
Add the Small Bulb Adapter below and create endless possibilities.  Choose from Solid State or Traditional depending on which wand you are using.

Note: Bulbs can be "burned out" and still work with your Violet Wand!  Go Green!|
Sold only as an adult novelty Due to the nature of this product, no returns allowed if packaging is unsealed. Item is for use by consenting adults only as Novelty Items, Fashion Accessories, or Sexual Toys. We assume no responsibility for Unsafe, Improper, or Illegal use of these items. Please be Safe, Consensual, and always use Common Sense!