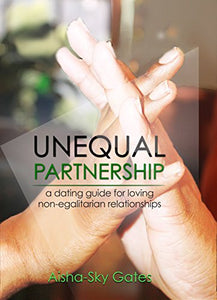 Do you want to create a long term and sustainable intimate relationship? Are you already dating or married and want to strengthen what you have?

American society assumes that an egalitarian relationship is for everyone but the divorce rate is higher than fifty percent. The Unequal Partnership model has a deliberate consensual power imbalance as the main element of a strong foundation for the couple's love. It's an alternative option that might be a better fit for some.

Unequal Partners set up a deliberate, consensual power imbalance in the relationship. Their agreements create mutual respect, relationship sustainability, and continuous support for individual growth. Their agreements create a strong foundation for their love and romance.

Read Unequal Partnership and discover:
excellent relationship advice for everyone,
how to create relationship contracts,
how to negotiate in your personal life,
solid relationship structure for the purpose of long-term sustainability, and
how alternative lifestyle choices can be foundational for relationship stability.

Get your copy of Unequal Partnership now and see what a difference it can make in the pursuit of your and your partner's personal happiness. Sometimes, an alternative lifestyle choice can be the key to creating a healthy, loving relationship.
Author: Aisha-Sky Gates