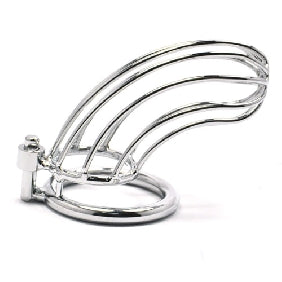 The Bird Cock Cage
Lock down your lover and prevent him from getting hard with the ultimate Chastity Device. Our Steel Chastity Device is 2 inches ring, cast in high quality steel and hand polished to perfection. This chastity sleeve offers maximum security for his precious family jewels.
Male chastity restricts your man from pleasuring himself. No longer can he obtain a full erection while safely locked inside.    Agony for him, wicked entertainment for you! Slide the ring around his balls then slip his soft cock inside the steel sleeve. You control the fun as you hold the key to satisfaction He is certain to be eager to fulfill your every whim in order to receive the pleasure he craves.
Sold only as an adult novelty.
Due to the nature of this product, no returns allowed if packaging is unsealed.
Item is for use by consenting adults only as novelty items, fashion accessories or sex toys. We assume no responsibility for unsafe, improper or illegal use of these items. Please be safe, consensual and always use common sense!