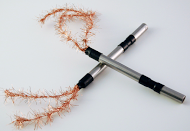 Small chrome handle with copper tinsel strands. Intensely electrifying! Just wait for the Fireworks to begin! Strands can be formed in an endless array of shapes. Spark Your Imagination with this one.  We did!  We rate this as a High Intensity Item.

Care should be taken as this High Intensity can be used in several advanced Violet Wand Techniques.

Our original creation.  Accept no substitutes

Sold only as an adult novelty Due to the nature of this product, no returns allowed if packaging is unsealed. Item is for use by consenting adults only as Novelty Items, Fashion Accessories, or Sexual Toys. We assume no responsibility for Unsafe, Improper, or Illegal use of these items. Please be Safe, Consensual, and always use Common Sense!