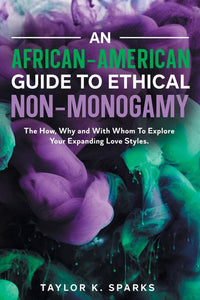 An African-American Guide To Ethical Non-Monogamy is a how to guide of the various love styles under the ethical non-monogamy umbrella. As an African-American raised in the United States, our outlook and thought processes regarding sex and relationships have been firmly established by society and religion. Sexual stereotypes have been forced upon us, acquiesced by us and passed along from generation to generation via epigenetics and accepted without question.
An African-American Guide To Ethical Non-Monogamy will fill in the gaps of your open mind by answering the many questions on the diverse ways to love and be loved. Discover the differences and benefits of: Open, Swinging, Polygyny, Polyandry, Polyamory and resolve which love style(s) is best for you. We will demonstrate ways to communicate authentically, set boundaries and learn to become responsible for your own emotions. Let us begin.
Amongst many things, Taylor (aka Mariposa) Sparks is a passionate erotic educator and sex goddess, certified in both holistic aromatherapy and human behavior. With over twenty years of experience in the natural skin care/cosmetics industry, Ms. Sparks launched OrganicLoven.com, one of the largest BIPOC owned online intimacy shops.
Ms. Sparks' holistic sexual health/wellness and relationship expertise has contributed to articles in Bustle, Cosmopolitan, Glamour, Married 2 Medicine, Men's Health, Oprah, Shape, Women's Health magazines as well as being a guest on many national and international podcasts.
For more than 15 years before, she was a highly sought-after corporate trainer with a proficiency in the areas of: Communications, Negotiations, Leadership and Business Management skills, Customer Service and Team Building with a specialty in DISC Personality Assessments.
While traveling around the globe, Taylor has become renowned in the adult travel industry and is a powerful public speaker both nationally and internationally. Coaching couples and singles in both the ethically monogamous and ethically non-monogamous communities.
Personally, she has two adult children, and a 25-year marriage that was both ethically monogamous/ethically non-monogamous (12/13 years respectively) and has identified as ethically non-monogamous for more than 15 years. Taylor lives a plant-based life, socially and environmentally conscious and a strong supporter of all things organic, natural and eco-friendly...including Love.