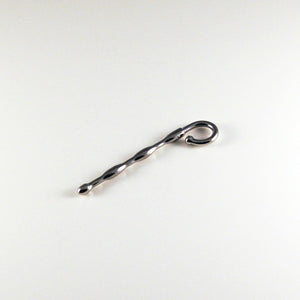 At 4 1/2 inches long with a 5/16" diameter at its thickest point, this piece is designed to reach down into the more receptive areas deep in the urethra.  Added ribs are sure to make this one of your exhilarating pieces.  Hook handle makes is easy to manage and if it happens to be your size will hug your head!
Apply a generous squeeze of sterile water based lube to the plug and your urethral opening before slowly inserting the sound into the end of your penis.  Our tapered design aids in insertion, while preventing over insertion.
Always use sterile water based lube with urethral toys!
Item is for use by consenting adults only as a Novelty Item, Fashion Accessory or Sexual Toys.  We assume NO responsibility for Unsafe, Improper, or Illegal use of this item.  Please be safe, consensual and always use common sense!  Due to the nature of this product no returns allowed if the packaging is unsealed.