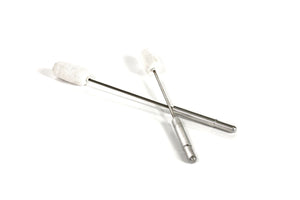 Violet Wand PLUS Fire Play!  Combine these 2 fantastic play modes with the addition of our exclusive Fire Electrode.  Insert into your Violet Wand, turn on the power and watch it FLAME ON!  Can then be used in combination with your Violet Wand so that you get the warmth of the flame as well as the zap of the wand.  If you prefer, you can remove the Fire Electrode and use as you would any other Fire Wand. 
These fire wands are meant to be lite from inside a violet wand then be sed as one would a typical fire wand. This eye catching accessory is ideal for the fire and electric player who seems to have everything else.
Spark Your Imagination with this one.  We did!  We rate this as a High Intensity Item.

NOTE:  Care should be taken as this an Advanced Technique item.  Before using you should be comfortable with both Violet Wands as well as Fire Play safety. 

Sold only as an adult novelty Due to the nature of this product, no returns allowed if packaging is unsealed. Item is for use by consenting adults only as Novelty Items, Fashion Accessories, or Sexual Toys. We assume no responsibility for Unsafe, Improper, or Illegal use of these items. Please be Safe, Consensual, and always use Common Sense!