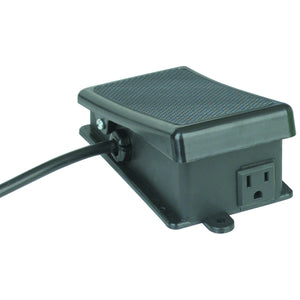 This easy-to-operate foot switch allows you to operate your Traditional Violet Wand hands-free. Installation is super easy - simply plug the foot switch into a grounded outlet, then plug the machine into the foot switch. A two-step design allows you to press once to turn the switch on and again to turn the switch off. Set your power level and play away. 

Easy to operate - maintains constant power when switched on
Two-step design - press once to turn on, press again to turn off
Three-prong grounded outlet
7 ft. 5 in. power cord
Sold only as an adult novelty. Due to the nature of this product, no returns allowed if packaging is unsealed. Item is for use by consenting adults only as Novelty Items, Fashion Accessories, or Sexual Toys. We assume no responsibility for Unsafe, Improper, or Illegal use of these items. Please be Safe, Consensual, and always use Common Sense!