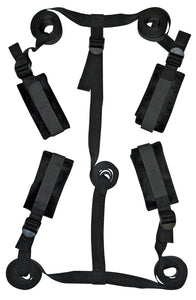 Bed Bondage Restraint Kit contains EVERYTHING you need for a great twist on your special evening.  Read on:

It was our anniversary, and while we enjoyed traditional celebrations, we also shared a common love of the less conventional, more stimulating ways of commemorating certain occasions. Since I was the one who thought of it, he was the one who would be bound on our special night. We went to our favorite restaurant, and when we got home, I strapped him in and started kissing and caressing his body until the doorbell rang. I told him I would just be a minute. It was my sister. She popped in to surprise us with a bottle of Champagne. I coyly told her my other half had been suddenly bedridden, but we should not waste the bubbly. Needless to say by the time my sister left, he was more anxious than ever to culminate our romantic evening.
Features: make any bed your bondage playground with this easy to install kit. A bedroom bondage kit with cuffs.No bed posts required! Just attach the four soft cuffs to the 60 inch adjustable straps. Also includes a 60 inches adjustable connector strap for a secure fit. Portable and perfect for travel.

Includes: 4 60 inches adjustable straps  four cuffs, four tethers, 1 60 inches connector strap
Materials Polypropylene webbing, Polyester Velboa fabric, ABS plastic, Velcro.
Sold only as an adult novelty Due to the nature of this product, no returns allowed if packaging is unsealed. Item is for use by consenting adults only as Novelty Items, Fashion Accessories, or Sexual Toys. We assume no responsibility for Unsafe, Improper, or Illegal use of these items. Please be Safe, Consensual, and always use Common Sense!