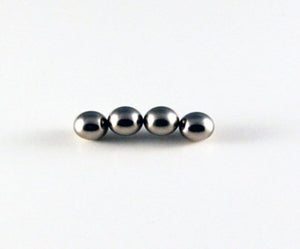 Finally, a way for men and women to enjoy nipple piercings without being pierced is here. Huggers are small, stylish, round earth magnets with the power to put and stay put with two degrees of force. Large Huggers are a force to be reckoned with, pinching harder and useful even through several inches of flesh, no need for that Glans ring anymore! This set comes with two pairs of Huggers. Great nipple pinchers for those who want to make a statement, and do not mind a touch more tug with their jewelry.
Caution: care must be used when applying and removing  Huggers, as these very strong magnets can leap together and cause bruising, chafing, and other minor injuries.
For external use only.  Keep away from children!

Available in small or large
Sold only as an adult novelty. Due to the nature of this product, no returns allowed if packaging is unsealed. Item is for use by consenting adults only as Novelty Items, Fashion Accessories, or Sexual Toys. We assume no responsibility for Unsafe, Improper, or Illegal use of these items. Please be Safe, Consensual, and always use Common Sense!