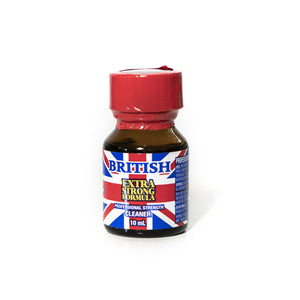 British Royal Poppers are an isobutyl nitrite blend that is actually extremely powerful.  If you haven't tried some of the other poppers blends first, best do that and then come back to this one.  This is known to be too strong for some people, but if you do like strong poppers this a dynamite.  
Per their tagline:  "You will feel like a King (or Queen) with this extra strength formula.  Get ready to have your royal jewels rocked."  Cute tagline and actually quite accurate.  We found it to be somewhat "blow your socks off" and yes probably overpowering for the mild user, ie – not as smooth or refined as some other favorites.  But, if you like the really powerful, hard-hitting blends that put one in seventh heaven, then definitely give this one a try.
British Royal Poppers small bottle can go a VERY long way and, we've found, that it doesn't lose it's strength over time like some others. We would not recommend holding onto it for months, but it will last and hold it's potency for a good amount of time.  It is no wonder this one is highly sought after! These might not be as popular as some other strong brands, but they are well worth trying. Who knows it might become your favorite?!!! The Brits know how to make a good product.
Sold only as an adult novelty. Due to the nature of this product, no returns allowed if packaging is unsealed. Item is for use by consenting adults only as Novelty Items, Fashion Accessories, or Sexual Toys. We assume no responsibility for Unsafe, Improper, or Illegal use of these items. Please be Safe, Consensual, and always use Common Sense!