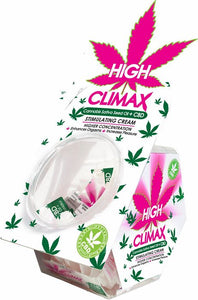 Body Action Products High Climax Female Stimulating Cream with Hemp Seed Oil.  Higher concentration. Female enhancement cream with hemp CBD. Enhances orgasms. Increases pleasure. Cannabis Sativa Seed Oil + CBD. Great travel size single use. 
3 travel tubes for $5.00. 
Ingredients: De-ionized Water, Aloe Barbadensis Aloe Vera Gel Juice, Stearic Acid, Cetyl Alcohol, Glycerin, Dimethicone, Helianthus Annuus Sunflower Oil, Zemea Corn Propanediol, Methyl Salicylate, Tocopheryl Acetate Vitamin E, Cannabis Sativa Hemp Seed Oil, Carrageenan, Lecithin, L-Arginine HCl, Niacin, Glycyrrhiza Glabra Licorice Root Extract, Panax Ginseng Root Extract, Tongkat Ali Extract, Citrullus Lanatus Watermelon Extract, Dioscorea Villosa Wild Yam Root Extract, Echinacea Purpurea Extract, Menthol, dl-Panthenol, Ascorbic Acid, Methyl Nicotinate, Parfum Fragrance, Sodium Hydroxide, Phenoxyethanol, Ethylhexylglycerin.
Made in the USA.
CBD is an organic compound that is found in the industrial hemp plant.The CBD in our products is obtained from the finest industrial hemp grown in the United States. The United States has a long history of growing hemp. In fact, it has been grown on our home continent since 1645!